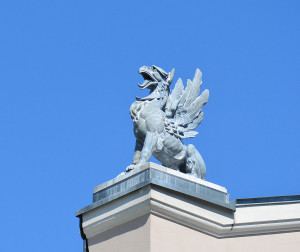 Dragons are big in Slovenian fairy tales. This is the dragon from the Ljublaljanska on the opera house by Alois Staudacher – Laibach. Licensed under CC BY 2.0 via Wikimedia Commons. The myth is that this dragon is based on Jason and the Argonauts. Jason stopped on his way from stealing the golden fleece. On his way home he stopped in Slovenia for the winter. The problem was they camped in a place that was plagued by a dragon. Jason and his Argonauts killed the dragon. Ljublajanska has dragons all over town to commemorate the event. The dragon is the guardian of the city.
I'm also interested in what the dragon might mean. In 'Longing for Home' Irena's aunt writes to her about taming her dragon. That is getting the energy from her negative emotions and putting them to work rather than trying to kill them or bury them off. In Slavic mythology the dragon is tied to the god of the underworld, Veles. He is a tricky god. He is not only evil, but also the source of vegetation and fertility. I've been exploring the dark this time of year and I find this to be true. Dark times are difficult, but they are also times that help us find the roots and source of our strength. I explored what can be learned in the dark in my chapter about Persephone Walking With Persephone: A Journey Toward Healing, In Creativity and Madness: Psychological Studies of Art and Artists (Vol 2), Barry M. Panter MD, PhD Ed (2009). In that chapter I explore what it meant to go into the dark with the death of my son. This painting is the end of the chapter. When I started this painting I thought it would be about the light – getting out of the dark.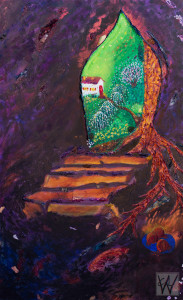 It was really about the dark, about finding the roots, the moisture and treasures of reflection. Persephone, like Veles, is from the underworld. We like to run from the dragons, hide from the dark, but knowing our darkness gives depth to our light. Our dragons give us protection.