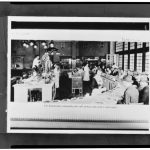 Long before there were truck stops there were Harvey Houses. Fred Harvey was a cafe owner who saw an opportunity to open cafes along the rail lines. When he started business in 1870 most of the rail stops were limited to small eateries that sold beans and bread or other easy to make food. The quality wasn't the best and many people packed their own food for trips. Harvey's cafes were clean and served large portions of good fresh food. They also really went for class with fine china and Irish linen. Harvey had an association with the Santa Fe railroad. The railroad would take the passenger's orders while they were on the train. The orders would be put out with the mail at a town before the stop and then telegraphed to the Harvey House. When the passengers got off the train, with only a half an hour for a meal while the train changed out the car and took on water, their meal would be already prepared and waiting for them. The waitresses even had signals for what type of drink passengers wanted. They would turn the cup a certain way to signal juice, milk or coffee so one server could quickly fill the drinks. It was the fast food of the time.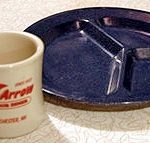 Harvey Houses are credited with the first blue plate special, an affordable complete meal on a blue patterned plate.
The thing the Harvey Houses became most known for though was the Harvey Girls. Fred Harvey hired girls between 18 and 30 of good character to work in his restaurants. The girls wore a black top, a large white apron and a white bow in their hair. It was a clever piece of marketing and they were easily recognizable. Historical websites sometimes gloss over the fact that he hired only white girls. That rankles me now, but it was a sign of the times. At any rate, many of the girls had never left the east coast and wanted a little adventure in the west. They generally are credited to helping tame the wild west. Many of the girls married and settled in the western territories. There is a cute Judy Garland movie 'The Harvey Girls' where she plays a Harvey Girl and Angela Lansbury plays the madam of the local brothel. As part of my research for my second book I made my long suffering husband Charlie watch the movie, well, he loaded it up for me and watched part of it. If you want a light little bit of fluff check it out.