Lisa Wayman wrote 'Longing for Home' to explore her own heritage as well as work out what it means to find a home and family. She has many Native American friends who formally introduce themselves with their tribe, band, family and name. Lisa is at a disadvantage because she don't know her tribe and band. She is the great grand-daughter of Slovene, German and Irish immigrants and told this fictional story to explore the culture of her ancestors and to honor the 'huddled' masses of immigrants to the US.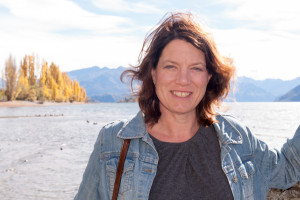 Lisa is also a navy brat with an itinerant childhood who has spent much of her adult life looking for home. This novel let her explore what home and family means through a fictional character – the Slovene immigrant Irena.
Lisa has written professional articles for nursing journals and autobiographical chapters for books which explored her experience of grief after the death of her 12 year old son. Her story was told through words and visual art which can be seen at Lisa's art.
Longing for Home is Lisa's first foray into fiction. As a PhD nurse researcher she learned to delve deeply into the facts and has extensively researched the historical context for this story. However, this story is much more about the people than it is about history, and in this aspect Lisa's nursing background has been most informative. Lisa has had the honor of being a nurse for more than 20 years. As a nurse, she has cared for all types of people: rich and poor, resilient and struggling, healing and dying. Her nursing experiences give Lisa a unique view of human nature and informed the responses of the book's characters. Lisa deeply loves the characters and hopes you find that Irena's story of struggling to meet the demands of her time and her quest to find where she belongs resonates with you.
Lisa lives in Phoenix Arizona with her husband of 31 years, Charlie. She has a grown daughter, Katrina who lives with her husband Chris in New Zealand where Lisa visits whenever she can.