Over the past four or five years the Arizona Artist Guild has developed multiple outreach programs. The members of the guild believe that creating art is good for people, and promoting art is a way for artists to contribute to the communities in which they live. The guild holds outreach programs for senior refuges who don't speak English, Senior Native Americans, Veterans and girls who live in a residential home [Streetlight Girls] for victims of sexual trafficking. The guild raises money for supplies and the artist members provide free art making instruction.  The goal of the programs is to provide art instruction so that people have something besides their problems to think about, have a chance to socialize and have an activity to enjoy. We don't think we can cure what might be wrong with people, but we think that we can enrich their lives.
I am a member of the team that works with Veterans and the lead of the team that works with the girls. They are very different groups. The Veterans are making really interesting art. The girls are having fun with glitter.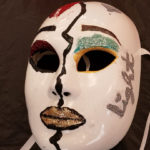 Both are terrific groups to work with. This past Saturday we had a Veteran's class and they made art and had a Thanksgiving dinner. Tons of fun. If you are a Veteran in the Phoenix area check it out. You are welcome to come have a  good time with us.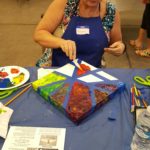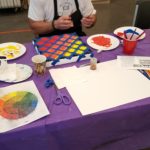 In addition to the outreach programs the Arizona Artist Guild has plenty of activities that support artists including classes, monthly meetings with critique, shows, open studio, all sorts of stuff. Check it out, the art is terrific. They have made me feel really welcome even though I'm not a professional artist.